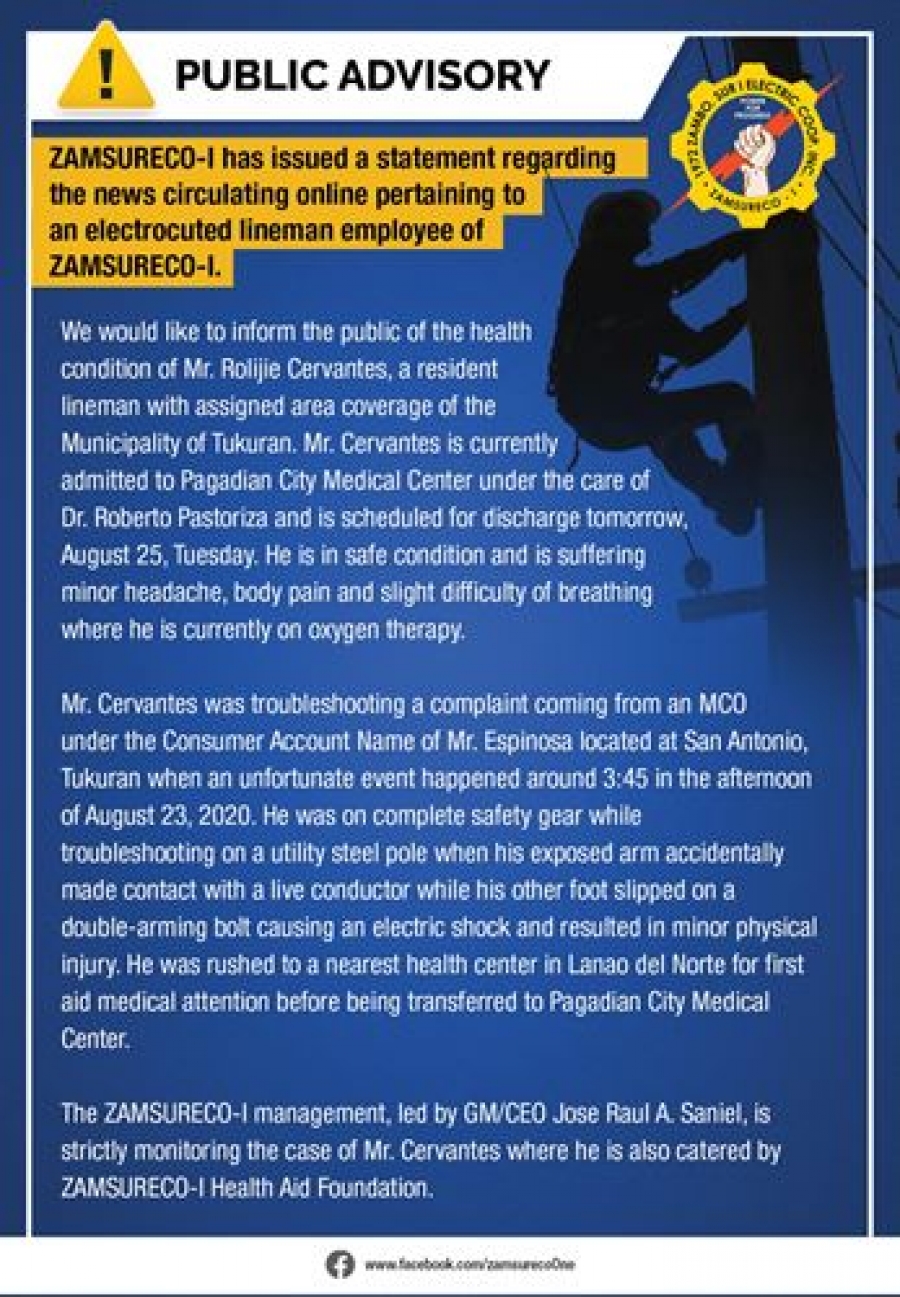 ZAMSURECO-I's statement new circulating online pertaining to an electrocuted lineman
ZAMSURECO-I has issued a statement regarding the news circulating online pertaining to an electrocuted lineman employee of ZAMSURECO-I.
We would like to inform the public of the health condition of Mr. Rolijie Cervantes, a resident lineman with assigned area coverage of the Municipality of Tukuran. Mr. Cervantes is currently admitted to Pagadian City Medical Center under the care of Dr. Roberto Pastoriza and is scheduled for discharge tomorrow, August 25, Tuesday. He is in safe condition and is suffering minor headache, body pain and slight difficulty of breathing where he is currently on oxygen therapy.
Mr. Cervantes was troubleshooting a complaint coming from an MCO under the Consumer Account Name of Mr. Espinosa located at San Antonio, Tukuran when an unfortunate event happened around 3:45 in the afternoon of August 23, 2020. He was on complete safety gear while troubleshooting on a utility steel pole when his exposed arm accidentally made contact with a live conductor while his other foot slipped on a double-arming bolt causing an electric shock and resulted in minor physical injury. He was rushed to a nearest health center in Lanao del Norte for first aid medical attention before being transferred to Pagadian City Medical Center.
The ZAMSURECO-I management, led by GM/CEO Jose Raul A. Saniel, is strictly monitoring the case of Mr. Cervantes where he is also catered by ZAMSURECO-I Health Aid Foundation.
Warning
: count(): Parameter must be an array or an object that implements Countable in
/home/zamsureco1/public_html/templates/burmont/html/com_k2/templates/default/item.php
on line
160