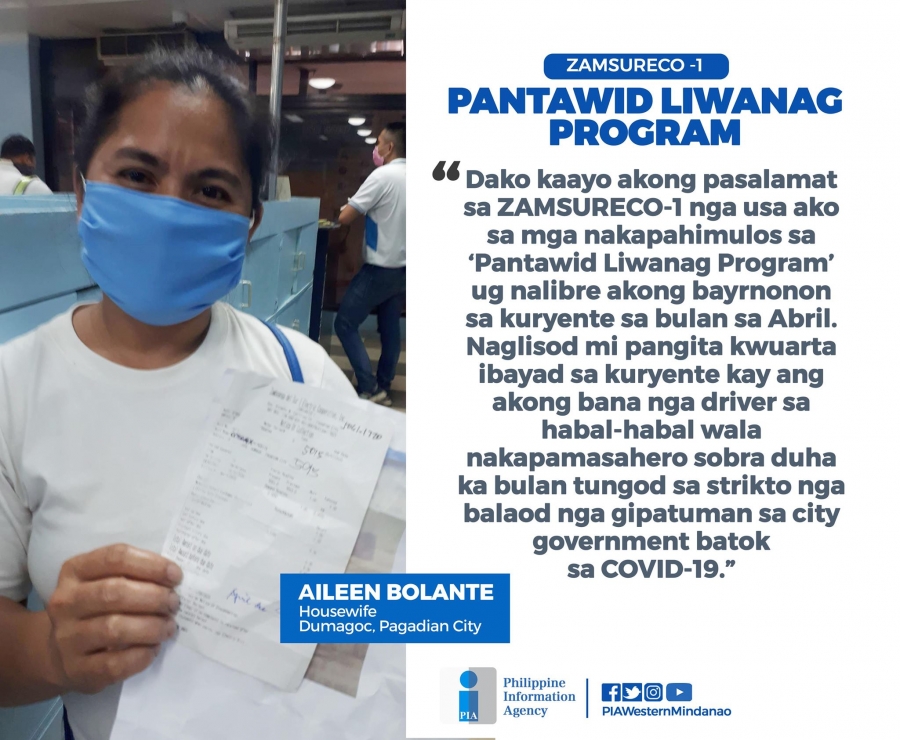 Pantawid Liwanag Program from Philippines Information Agency News (PIA)
By Gideon C. Corgue Published on May 14, 2020
PAGADIAN CITY,  13 May (PIA)— In support to the call of the Philippine Rural Electric Cooperatives Association, Inc. (PHILRECA) and the National Association of General Managers of Electric Cooperatives, Inc. (NAGMEC ) to provide subsidies  to marginalized consumers affected by the government's strict implementation of the enhanced community quarantine (ECQ), the Zamboanga del Sur Electric Cooperative, Inc. (ZAMSURECO-1) successfully implemented the Pantawid Liwanag Program (PLP).
The PLP is  a corporate social responsibility (CSR) program of the 121 electric cooperatives in the country that provides subsidy to electricity bills for  the marginalized consumers who are living below the poverty level or are severely affected by the pandemic.
Jose Raul Saniel, ZAMSURECO-1's chief executive officer and general manager said that under the PLP, a total of 57, 947 lifeline consumers or equivalent to 37% of the entire 158, 000 member-consumer-owners (MCOs) of the electric cooperative have benefitted from the electricity program.
Saniel said the less fortunate MCOs who have no regular income like the lifeline electric consumers, those who have regular income but inadequate and have difficulty in paying their electricity consumption and those who are mostly affected by the ECQ.
"The customers who consumed 25 kilowatt-hours below were provided with free electricity for the month of April to alleviate their plight amid the coronavirus disease 2019 (Covid-19) pandemic in the country," he said.
Saniel also said that ZAMSURECO-1 has also provided a 30-day grace period for consumers to settle their electricity bills and did not impose surcharges and power disconnections for those who failed to pay on time. 
"We did not impose surcharges and disconnection to our consumers from March to April. This is our own little way of helping our consumers who are greatly affected by the COVID-19," he added.
To fund the PLP program, Saniel said ZAMSURECO-1 utilized their budget allotted for their institutional activities such as the annual general membership assembly (AGMA) and their Annual Regular Representative Assembly (ARRA) were cancelled due to the outbreak of COVID-19.
Budget for the above-mentioned activities were realigned to operational expenses and it was able to save P7-M where the amount was used to cover the PLP.
Meanwhile, Aileen Bolante, a consumer of barangay Dumagoc was very grateful to ZAMSURECO-1 for allowing her to avail 'Pantawid Liwanag Program' where her bill for April was free.
She said she experienced difficulty of raising money to pay electric bills saying that her husband, a 'habal-habal" driver stopped from driving because of the prohibition of motorcycle backriding due to the government's strict implementation of ECQ in the city starting March, this year.  (RVC/GCC/PIA-Zamboanga del Sur)
Warning
: count(): Parameter must be an array or an object that implements Countable in
/home/zamsureco1/public_html/templates/burmont/html/com_k2/templates/default/item.php
on line
160