Thursday, 04 August 2022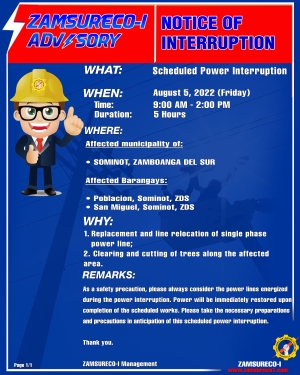 SCHEDULED POWER INTERRUPTION Date: AUGUST 5, 2022 (FRIDAY) Time: 9:00 AM - 2:00 PM Duration: 5 Hours Affected area/s: • PORTION OF MUNICIPALITY OF SOMINOT, ZDS   Entire Barangay/s of:• Poblacion, Sominot, ZDS• San Miguel, Sominot, ZDS   Reason/s of Interruption:1. Replacement and line relocation of single phase power line;2. Clearing and cutting of trees along the affected area.   As a safety precaution, please always consider the power lines energized during the power interruption. Power will be immediately restored upon completion of the scheduled works. Please take the necessary preparations and precautions in anticipation of this scheduled power interruption. Thank you.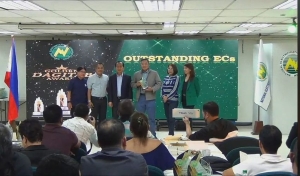 ZAMSURECO-I GARNERS 5 AWARDS ZAMSURECO-I garnered five (5) awards during the recently concluded NEA Golden Dagitab Awarding Ceremony last July 29, 2022. ZAMSURECO-I General Manager & Chief Executive Officer, Mr. Jose Raul A. Saniel, received the awards at NEA Building, Diliman, Quezon City. ZAMSURECO-I joined the A-list of 25 electric cooperatives that have secured a major award known as the: ❖ Most Outstanding EC Award Considered the pinnacle of all awards, ZAMSURECO-I earned this award for its excellent performance, attaining a 100% rating in all facets of ZAMSURECO-I's operation, thereby realizing the vision of the Rural Electrification Program. In its steadfast efforts and commitment to the noble mission of rural socio-economic development through its core and advocacy-based programs, NEA has also conferred ZAMSURECO-I the following awards: ❖ Outstanding EC Award For having attained an "AAA" rating in the 2021 overall performance assessment and successfully carrying out the mandate of the Rural Electrification Program ❖ Rural Electrification (RE) Program Distinction Award For the unwavering commitment and its efforts in promoting the best interest of its consumers through the Rural Electrification Program ❖ ECs with Advance Payment to NEA The citation is conferred to ZAMSURECO-I for being consistent in supporting NEA's lending program through its advanced remittance. ❖ Compact of Cooperation Award For its philanthropic benevolence in assisting brother cooperatives in rising again after the onslaught of natural calamities to be able to provide excellent service to the member-consumer-owners ZAMSURECO-I has fully complied with the stringent parameters set out by the National Electrification Administration (NEA), being the oversight agency of all 121 electric cooperatives in the country. Through the combined efforts of the Board, Management and workforce, ZAMSURECO-I ascribes this feat to our member-consumer-owners and stakeholders for their unwavering support. Congratulations and Mabuhay, ZAMSURECO-I and MCOs!