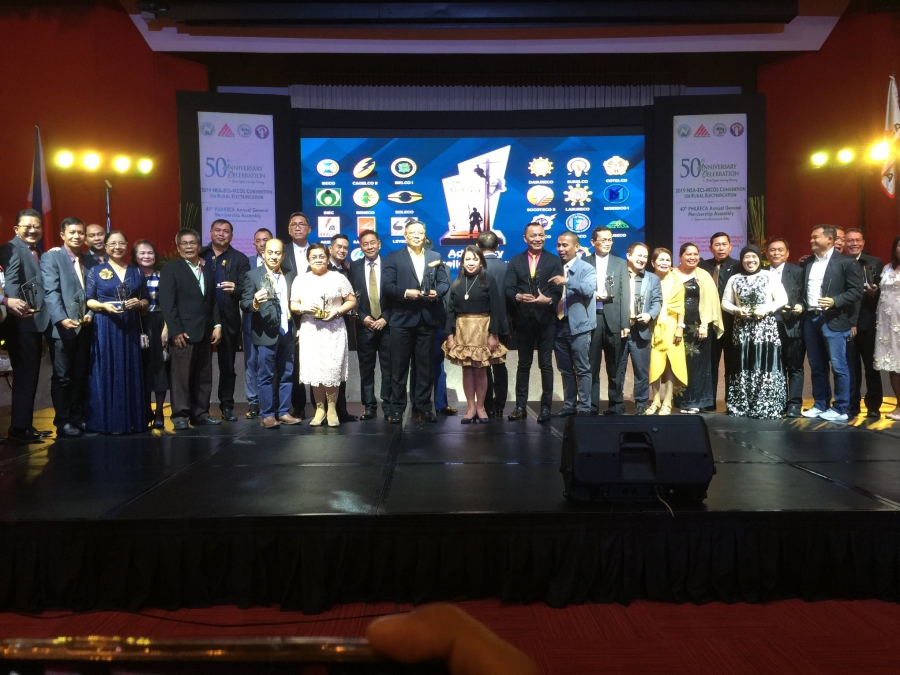 EC Awarding Ceremony at Philippine International Convention Center, Pasay City
ZAMSURECO-I Golden Dagitab Awards
11 distinct awards landed in ZAMSURECO-I turf in the recently concluded NEA @ 50: EC Awarding Ceremony at Philippine International Convention Center, Pasay City last August 08, 2019.
The following given awards were based on NEA's Enhanced Key Performance Standards on EC over-all standing and operational performance, robust presence of member-consumer-owner advocacy groups, active involvement in the rural electrification program and leadership excellence of EC leaders.
GOLDEN DAGITAB PERFORMANCE EXCELLENCE AWARD FOR "AAA" ECs WITH 100% TOTAL SCORE IN THE 2018 EC OVERALL ASSESSMENT
PARAMOUNT ACHIEVEMENT AWARD FOR SHOWING EXEMPLARY PERFORMANCE AS A TRIPLE-A (AAA) CATEGORY EC IN THE PURSUIT OF TOTAL ELECTRIFICATION AND SUSTAINABLE RURAL DEVELOPMENT
GOLDEN DAGITAB AWARD FOR THE SUCCESSFUL IMPLEMENTATION OF THE RURAL ELECTRIFICATION PROGRAM (REP)
FIVE (5) YEARS OF POWERHOUSE EXCELLENCE AWARD FOR CONSISTENTLY EXHIBITING AN EXEMPLARY PERFORMANCE AS A TRIPLE-A (AAA) CATEGORY ELECTRIC COOPERATIVE (EC) IN THE LAST FIVE YEARS
STELLAR SUCCESS AWARD FOR CONSISTENTLY ACHIEVING 100% COLLECTION PERFORMANCE IN THE LAST TEN (10) YEARS
ADVOCACY EXCELLENCE AWARD FOR BEING A STRONG INSTRUMENT IN CARRYING OUT THE GOALS OF NEA-PHILRECA AND ONE EC-MCO MOVEMENT
MODEL MEMBER-EC AWARD FOR BEING AN OUTSTANDING MEMBER-ELECTRIC COOPERATIVE
MCO CHAMPION SPOTLIGHT AWARD FOR HAVING GREATEST NUMBER OF MCOs in the BARANGAY LEVEL
MCO PRIME PARTICIPATION AWARD FOR ATTAINING HIGHEST AGMA ATTENDANCE
GENERAL MANAGER LEADERSHIP - GM/CEO JOSE RAUL A. SANIEL
BOARD OF DIRECTORS LEADERSHIP AWARD - PRESIDENT MARIVIC A. CHAVES
A total of 58 category awards were given by NEA. ZAMSURECO-I is one of the ECs who harvested the highest number of performance awards during the recognition ceremony.
ZAMSURECO-I Board headed by Pres. Marivic Chaves and Management Team headed by GM/CEO Jose Raul Agustero-Saniel accepted the awards on PICC stage with Rep. Presley de Jesus of PHILRECA Partylist, NEA Administrator Edgardo R. Masongsong , Atty. Vicar Loreen G. Lofranco of NEA, and Atty. Janeene Dipay-Colingan the Executive Director/General Manager of PHILRECA.
ZAMSURECO-I has sustained its excellence performance as AAA-Megalarge Category Electric Cooperative with 100% points performance score and stay competitive despite of the rapid technological, socio-economic changes and challenges, due to the strong cooperation among the Board of Directors, Management, workforce and collaboration with MCOs-MSEAC and other stakeholder partners, and the strong support of the National Electrification Administration. Thank you and congrats everyone.

#50YearsofNEA
Warning
: count(): Parameter must be an array or an object that implements Countable in
/home/zamsureco1/public_html/templates/burmont/html/com_k2/templates/default/item.php
on line
160