Saturday, 19 November 2022
SCHEDULED NGCP POWER INTERRUPTION UPDATE: NGCP Revise Manual Load Dropping (MLD) Matrix Schedule for November 20, 2022 on Aurora-San Miguel 69kv Line  Time Schedule: •12:00 AM - 1:00 AM •8:00 AM - 12:00 PM Affected area/s: • UPPER BAYAO Substation • TIGUMA Substation • STA. MARIA Substation • BALANGASAN Substation • SAN MIGUEL Substation Municipalities affected: •PAGADIAN CITY •LABANGAN •DUMALINAO •TIGBAO •GUIPOS •SAN PABLO •SAN MIGUEL •LAPUYAN •DIMATALING •DINAS •VINCENZO SAGUN •MARGOSATUBIG •PITOGO •TABINA •Portion of AURORA, ZDS   -Brgy. Lubid   -Brgy. Lantungan   -Brgy. Inroad   -Brgy. Resthouse •Portion of the municipality of TUKURAN, ZDS   -excluding brgys:     x Navalan    x Laperian    x Buenasuerte    x Sambulawan NGCP will implement Manual Load Dropping (MLD) to all power customers of District 1, Mindanao O&M to temporarily limit power flow along Baloi-Aurora and Agus 5–Aurora 138kV lines to prevent breaching the safe clearance of the conductors from overgrown vegetation at Brgy. Tingin-tingin, Kauswagan, Lanao del Norte due to an uncooperative landowner refusing access to NGCP personnel to clear the vegetation. NOTE: This is just temporary and will be changed once the NGCP transmission line is restored to its normal operating condition. Thank you.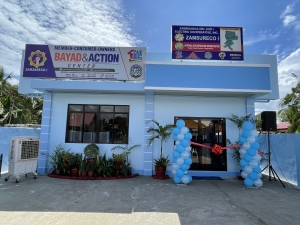 USE DATABASE The National Electrification Administration is conducting the Unified Sitio Electrification (USE) Database Workshop in Region IX, hosted by RENECA, on October 19-20, 2022 at ZAMSURECO-I Heroe's Hall, Pagadian City. The workshop is attended by Region IX member electric cooperatives namely; ZANECO, ZAMCELCO, ZAMSURECO-I, and ZAMSURECO-II. RENECA President, GM/CEO Jose Raul A. Saniel in his welcome message acknowledges the presence of NEA headed by Database Management and Program Control Division Manager Ms. Leilani L. Rico and all participants. ZAMSURECO-I personnel rendered a welcome dance presentation to energize the participants.