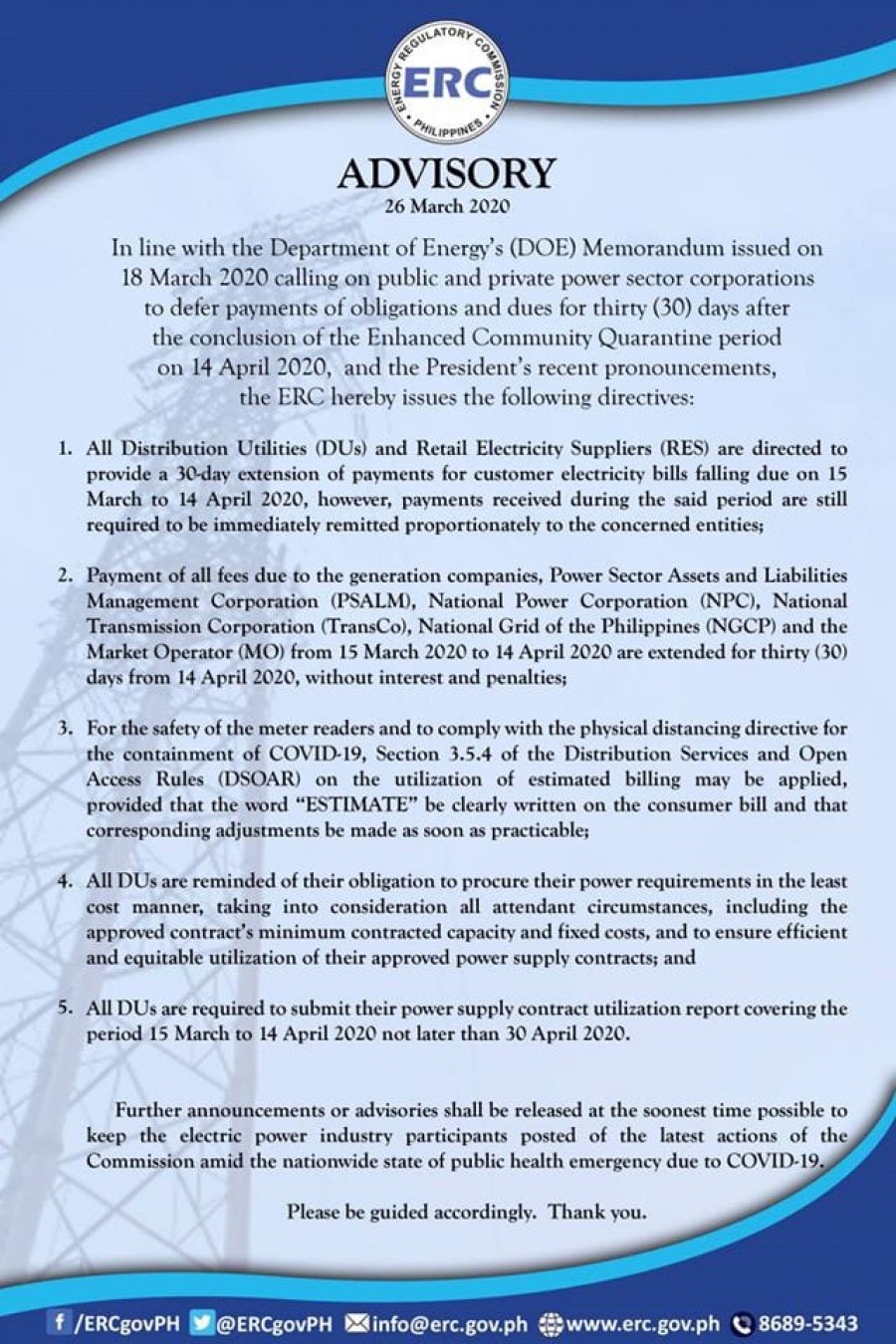 NOTICE TO THE PUBLIC
"Due to COVID19 crisis, ERC issued advisory dated March 26, 2020 to implement and apply Section 3.5.4 of DSOAR on the utilization of ESTIMATED BILLING to ensure safety of the Meter Readers and comply the mandate of Social Distancing Measure to prevent the spread of Corona Virus.
In compliance with said order, ZAMSURECO-I is implementing the average billing for the last three month's consumption of customers. Refer to attached ERC Order posted herein for guidance.
The Notice or Statement of Accounts of customers for this period March 2020 are available, however, due to strict implementation of Enhanced Community Quarantine measures nationwide, our movement is limited which prevent us from going in and out at the workplace and within the franchise coverage area. Thus, the notice or statement of accounts will be served to customers upon further notice. This is to ensure safety of Meter Readers and Deputized Meter Readers and compliance to the ECQ Order.
In addition, for clarification, payment of bills for this March 2020 consumption is extended 30 days from the regular scheduled due dates of customers. Within the extension period, there will be no surcharge and no disconnection be imposed.
For any clarifications, please call or text us through our Z4Cs Hotline Numbers: Smart: 09998840609
Globe: 09177212635
Sun: 09328764031
or you may visit our Official Facebook Account: https://www.facebook.com/zamsurecoOne/
Thank you, stay safe and SAVE LIVES."
by: ZAMSURECO-I Management
Warning
: count(): Parameter must be an array or an object that implements Countable in
/home/zamsureco1/public_html/templates/burmont/html/com_k2/templates/default/item.php
on line
160